I've read before that some vets say that successful syringe or spoon feeding is nearly impossible and that the best thing to do is implant a feeding tube. I happen to disagree. I am extremely fortunate, though, in that I work from home so I had the luxury of syringe feeding Bubba on a 4 hour schedule. Others aren't so lucky and they have crazy work schedules, so I respect whatever decision needs to be made to make sure the cat has a chance to survive. I understand that huge advances have been made in surgical tube placement and it is not as invasive as it was several years ago. It is, however, still invasive and the procedure involves anesthesia which is always a huge risk with sick animals.
Here are the feeding options and their pros and cons:
Syringe Feeding - Syringe feeding is when you use a syringe to squeeze food into the side of the cats' mouth. Sometimes feeding for only a week or two will bring back the urge to eat. If the cat has an underlying illness that ruins the appetite, assist feeding may be necessary for many weeks or even months. Some people have even assist fed the cats for over a year. Every cat is different. Sometime just getting enough good nutrition in your cat may make your cat feel well enough to eat on his or her own. Sometimes all it takes is getting the food going through the system to start to bring back a little appetite. It's worth a try.
Tube Feeding at the Veterinary Office - According to the Long Beach Animal Hospital web site "In this technique we fill a syringe with A/D and attach a small rubber feeding tube to the end. We gently pass this tube into your pets esophagus and give it the full amount of food that is in the tube. It has the advantage of using a food source (A/D) that is more solid than a liquid diet (CliniCare), so your pet receives more of its needed calories. It also has the advantage of minimal discomfort since no tube is left in for long periods of time. Some cats will begin eating on their own after only 1 or 2 feedings with this technique." (http://www.lbah.com/Feline/ftube.htm#medium 2nd paragraph in this section)
Nasogastric Tube is an option that sometimes works well for several days. This tube is passed through the nostrils and into the esophagus. It is taped and sutured in place. It has the advantage of easy placement and maintenance. The main problem is that the small diameter of the tube that is used only allows a liquid diet (CliniCare). To give an adequate amount of calories on a long term basis with this liquid diet would mean giving a volume of liquid that is far too much for the digestive system to handle, and the cat will usually vomit. (from Long Beach Animal Hospital http://www.lbah.com/Feline/ftube.htm#medium)
Esophagus Tube According to the Long Beach Animal Hospital web site "In terms of ease of placement, cost, and effectiveness, one of the best options for long term feeding is an esophagotomy tube. It does not require specialized equipment or exploratory surgery, and can usually be placed with sedation only." The esophagotomy tube is surgically implanted in the side of the neck, goes down the esophagus but stops just before reaching the stomach. "Serious complications are rare, and usually consist of regurgitation of food if too much is given too rapidly, especially in the first few days of feeding." (http://www.lbah.com/Feline/ftube.htm#long Large paragraph after discussion about PEG Tubes.)
Buddie Sauro has shared her e-tube photo: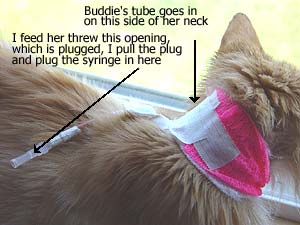 Click here to read more about Buddie
PEG Tube According to the Long Beach Animal Hospital web site "A very effective solution to long term feeding is a PEG tube. PEG stands for Percutaneous EndoGastric. It consists of a tube that passes from the inside of the stomach, through the abdominal body wall to the outside. It allows the long term use of food that will give adequate nutrition. Its first disadvantage is difficult placement. It is usually put in with a special instrument like an endoscope, or is placed surgically during an exploratory surgery of the abdomen. Requires general anesthesia. In addition, a further disadvantage is the potential for infection in the abdomen at the site the tube passes out of the stomach." (http://www.lbah.com/Feline/ftube.htm#long)
For Tube Placement pictures and further discussion, please visit the Long Beach Animal Web Site located at: http://www.lbah.com/Feline/ftube.htm They do a great job at showing you the different tube options.