Vol. 2, No. 21
Table of Contents
Feline Nutrition: Angel Food...
Assist Feeding: Bert is STILL eating!
Kitty Potpourri: Our Feline Companions: The Best Medicine - Part I
Best Cat Food: Halo, Purely for Pets
Caring for Cats: Call Me Shorty...

---

Feline Nutrition
Angel Food…
by Garry White

Generally, the word "Halo" renders images of that little ring floating just above my head, but this week it refers to something else: A Florida company called Halo, Purely For Pets. Just so happens that my guys are sampling some holistic treats from Halo, which you can read about in Food of The Week. Anyway, I thought it might be fun for all of you to see some of the real-life silliness that goes on behind the curtains as I gather (hopefully) valuable information for everyone. Story is, Halo had sent me some verbiage for a Food article, which I somehow managed to destroy, so I requested it again…below is the entire email I got back. Becky Johnson is the Director of Marketing, and Andi Brown is Director of the whole Halo company.

Hi Garry,
Here it is again.
If you have the space, you might want to mention the other Liv-a-Little Flavors: Wild Alaskan Salmon (The fish is so fresh you may have to slap it!) Delicious savory beef and Wild Pacific Codfish!

Thanks!
Becky Johnson
PS Let me know you received!

---
From: Becky Johnson [mailto:bjohnson@halopets.com]
To: 'Garry'
Subject: FW: HALO Food LLC
Here's the response! Hope you like it! We tried to have some fun with it. Let me know what you think of our responses!
Say, I heard you were interested in testing Spot's Stew, is that true? Clark and Wilbur can taste, too. It's really for cats even though it's a healthy, homemade human grade stew! I'd like to send some instructions and Dinner Party. Most cats need a little incentive like the Liv-a-Littles or Dinner Party! to make the switch from low-quality pet grade to healthy food. Actually, I'd like to send you what we call our Gour-mutt feast. See if Wilbur is up for the Spot's Stew Challenge.

See Andi's letter below...

Hi Garry,
Want to sink your teeth into a delectable story? We're going to tell you how to prepare a gourmet, err, gour-mutt feast so delicious and low-carb nutritious it's approved for humans to eat!! De rigueur for the most pampered pedigree palette or any pet with a paunch for that matter. Sure to be the hit of the Fancy Food Show in New York this summer!
We start with Spot's Stew: free-range chicken a swim in a healthy broth of zucchini, squash, carrots, green beans, peas and garlic powder. Next, pour in Dream Coat, a blend of cold-pressed, virgin oils, garnished with Dinner Party, a savory salmon and herb seasoning, followed by the pièce de résistance - Liv-a-Littles - a mouth-watering morsel of wild, cold-water cod. All made with USDA ingredients in our strictly regulated USDA kitchen (not a pet food processing plant).
I am the Director of Halo, Purely for Pets, a Florida-based company with a unique twist. We won't make anything we can't eat or use ourselves. In other words, we don't test on animals; we test on humans! Our food is so clean, it literally has healing properties, based on the fact that real food (as opposed to pet by-products) supports all body functions and helps pets maintain a proper weight balance.
I've enclosed everything you need to throw a gour-mutt feast for your pet and a few of their pals.
Pet Obesity on the Rise
If you'd like a more in depth story, I'd love to speak with you about what's really in commercial and so-called "natural" pet food; what it's doing to our beloved animals.
Obesity in pets has risen to epidemic proportions (an estimated 62% of America's pets) and it's mainly due to the overabundance of grains found in their foods, as well as their treats today. So why do the pet food and treat manufacturers chose corn, wheat or rice in their products? Economics, and bottom line profits, but it's at the health expense of our animals.
Let's not forget the use of by-products and chemicals either. All of these inferior ingredients, coupled together may sustain life of course, but unfortunately do not promote great health. That's why everything I make is guaranteed to provide unsurpassed nutrition and produce the healthiest pets on the planet.
Spot Stew Challenge
NOTE: Call Hale Pet and ask if this challenge is still going on.
Find an overweight, and or otherwise unhealthy pet and I'll provide 30 days worth of food for free, if you take the "before & after" photos & measurements. We guarantee a makeover in a few short weeks of a less than "glamour-pus" (or pooch) to a vibrantly healthy picture perfect model! Your pet loving audience will be singing your praises for years! It's no mystery, really - great food, supplements and exercise are the foundation of all life for everybody!
I look forward to hearing from you and hope you'll consider helping the animals and the ones that they love!
Best regards,
Andi Brown
Director, Halo, Purely for Pets
Website: http://www.halopets.com
Phone: 1-727-937-3376
---

Assist Feeding
Bert is STILL eating!
by Kathy Fatheree

Things here are fantastic!

The weather is beautiful, the days are getting longer and Bert is STILL eating! :) :)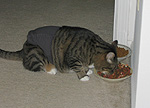 Bert is feeling fabulous. He's so much more active this last week than he has been in six months. He's playing and doing his bunny hop all over the house. He's eating ALL day long. He's still only eating a bit at a time but he's a grazer, always has been. He'll eat ten times an hour. He seems to have gotten the hang of it again; he's taking bigger bites and really crunching them now. Also he's drinking almost every time he eats so we know he's getting plenty of hydration.
I wish he would eat his Eukanuba but he's still turning his nose up at it. He doesn't want anything to do with it so right now he's on 9 lives crunchy. I wish we could get him on something that was a bit more nutritious but we'll take anything at this point! In a few weeks I think we'll add a few pieces of the Eukanuba and see how he does.
I've been a little concerned that he's not getting enough to eat but he doesn't seem to be losing any weight and like I said he's very active. We'll find out for sure when we take him in and have him weighed. I don't think he'll ever big my big 17lb cat again, but really that's okay.
We plan on taking him in on Friday (just short of two full weeks) to have his tube removed.
Dr. Smith wants to wait 1 to 2 weeks to make sure that everything was going well before they removed the tube. Well tomorrow will be 7 days and he's getting better every day! He's sleeping out in the living room at night a lot now (WOOOOOOHOO!) and spends a lot of his time in the day out on the patio. We thought before that he was almost 100% back to normal with the exception of not eating, however, I realize now that we were wrong. NOW he's getting back to normal! We had forgotten how active he really was, how much he liked to sleep on the couch and play.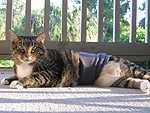 I took a few pictures of him out on the porch this weekend loving the warmth and the sunlight.
What a great week!
---

Kitty Potpourri
Our Feline Companions: The Best Medicine - Part I
by Dan Malenski

This week and next, we will talk about how our feline companions enhance the quality of people's lives outside of the traditional home environment that we normally think of. This week, we will feature two cats who embraced a homeless man but wound up needing help themselves and the role of a San Francisco rescue organization in helping them. Next week, we will talk about how our feline friends are involved in eldercare and what a great job they are doing in enhancing the quality of people's lives in long-term care facilities. The girls take credit for all the research, inspired from articles from Cat Fancy® magazine and the internet.

Pets Unlimited is a San Francisco based rescue organization that was founded nearly sixty years ago. It is supported by its full service 24-hour veterinary hospital and donations, and is staffed by nearly 100 doctors, nurses, and support staff in addition to over 200 volunteers. The past year alone, it arranged for the adoption of 328 cats and 59 d*gs! This article, however, focuses on them helping a homeless man and his two cats in time of need, and how a forever home was found for the two cats.

The less fortunate who are homeless are no less loyal to their feline companions than we are; in fact, most will not enter a shelter if it means abandoning their companions to an uncertain fate. We all know that a pet's love is unconditional and their loyalty unswerving, but after two particular
cats embraced a homeless man, they wound up needing help themselves when the homeless man was compelled to enter a shelter that would not accept the cats. Pets Unlimited provided sanctuary for his two cats, Mouse and Pi, when he entered the shelter. The homeless man would frequently visit Mouse and Pi at the sanctuary, but after a period of time came to realize that it would be in the cat's best interest if they could find a forever home.
Not too long after efforts were started to find Mouse and Pi a forever home, the shelter received a call from the police who informed them of the homeless man's passing, who only had with him a card from Pets Unlimited. At this time, the cats were formally placed on the list for adoption.
The younger and more outgoing Pi was adopted quite quickly, but Mouse languished at the shelter for several months due to his age and nature, not at all outgoing and on the shy side. After several months, along came Jorge Martinez who was seeking a feline companion for his senior cat, Olivia.

Olivia's feline companion, Brutus, has passed on several weeks ago, and both Olivia and Mr. Martinez were still mourning his passing. When Martinez and Mouse met, the bond was almost immediate, and after hearing about Mouse's history, he realized that they had a mutual need for each other, and it was in this manner that Mouse found his forever home. The photograph in this paragraph is that of Mouse and is credited to Carrie Harrington, a staff member of Pets Unlimited.
Be sure to join us next week...
when we talk about the role our feline companions have in many long-term care facilities-you may be very surprised at what you will hear.
---

Best Cat Food
Halo, Purely For Pets
by Garry White
Each week we are having our own cat food reviews to determine what we, or should I say, our kitties think is the best cat food.
Brand Name: Halo, Purely For Pets
Product: 'Liv-A-Littles' Chicken Treats
Type: Freeze Dried
Our Rating:

Kitty Rating:

Kitty Comments:
"Well, now! I believe I'll just have a whole bowl full of these for dinner, Dad. It's the best cat food! "
Our Comments:
"And I believe otherwise. No, Wilbur…these are treats that you get for being a good boy. Which means I'm extending you some credit here, Bub!" This is somewhat of a different concept, folks. The company (Halo) offers a range of holistic pet-care products, but since this article is dedicated to pure foods, we'll focus on that while encouraging you to visit their website to see what else might be of interest. Anyway, the nice ladies at Halo sent us a goody-pak of things to evaluate, and so far we've sampled the Liv-a-Littles Chicken Treats which were a big hit with my guys! They were a hit with me, too, because everything prepared (from human-grade ingredients) in USDA kitchens, which means they are suitable for human consumption; there's absolutely no question about whether or not they're safe and nutritious for our kitties! Halo claims (and I'll confirm it) that a very neat-o thing to do is crumble some of the Chicken Treats atop their regular food, and watch 'em go! Those of you with finicky eaters (or even a sick kitty with a poor appetite) may want to try this little routine. So, we'll be sampling, evaluating, and reporting on the various Halo treats periodically. In the meantime, it's well worth your while to browse their website, and maybe even give them a call to request some literature.
Manufacturer Says:
We have this on good authority: Clark and Goofball adore the treats and are still working with Gary and his behavioral responses. Come-on, who is this "Bub" he keeps referring to?
Keep up the good work guys and you two will soon have a fully trained human companion - hard work, dedication, and don't forget his treats. Not to mention, we've seen human companions beg quite appropriately for our Liv-A-Littles Chicken Treats.
Halo, Purely for Pets manufactures and distributes 4 delicious whole meat, freeze-dried treats. The most versatile and often hunted product is our Liv-A-Littles Chicken Treats - people say they taste just like chicken - we simply remind them it is chicken. With nary a snout turned out, these tasty treats are just chunks of USDA-approved (for humans) chicken, freeze-dried for pets.
Visit our site on holistic pet care, ask for a free holistic pet care booklet, learn about all our wonderful products, and lastly, write or call us and we can direct you to a store near you with any of our products.
Website: http://www.halopets.com
Phone: 1-727-937-3376

---

Caring for Cats
Call Me Shorty…
by Garry White

I took up so much space with Feline Nutrition, now I have to cut some corners. Which means this'll be a short article; may as well take this opportunity to bring you up to speed on our Cat Grass project. First off, it's a kit that you buy in most any pet-care store, and it includes everything you need…the seeds, the soil (which they call 'growing agent'), and even the container to grow it in! Pretty foolproof, actually. Start it in a dark place, and about 3 days later you've got sprouts! After that, give it some sunlight and it grows very quickly. Question is…Did they like it?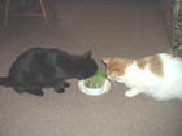 No, they didn't like it; they loved it! The package says it's made up of wheat, barley, and oats; being a conscientious pet-parent wanting to avoid too much of a good thing, I let them nibble for a few minutes before taking it away, which generated this little performance…
All in all, I guess this pure Cat Grass will be a regular thing around here, and you might want to give it a try.